Jodee On The Cover Of The Boston Bulletin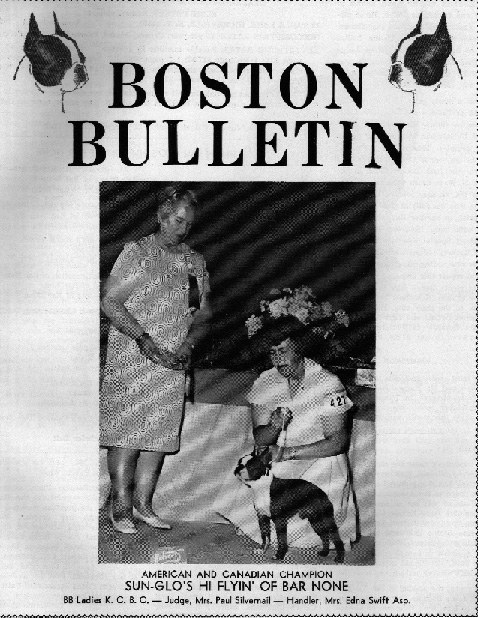 Cover Story - October, 1972
Proudly gracing this month's cover is American and Candian Champion SunGlo's Hi-Flyin Of Bar-None, known to family and friends as "Jodee".
He is pictured capturing BB from the classes over several Champions at the Ladies K.C. of British Columbia, under judge Mrs. Paul Silvernail for
5 points. He was beautifully presented by handler Edna Swift Asp. member P.H.A.
Jodee, a nicely gaited fellow, recently won BB at Tacoma and Longview-Kelso, Washington shows. He is at stud to approved bitches and producing exceptional puppies. This is not surprising since his mother is Ch. Dark Mischief's Replica, the first Boston bitch in the Pacific N.W. to finish with natural ears. It was not an easy job to find a mate for her, who was fully as good and would bring in another line which would cross with ours. However, Bar None's Something Special was found hiding is Katherine Schuett's kitchen drawer (his favorite hiding place) in Omaha.
We hope to repeat this breeding. Jodee says to watch for his young daughter, SunGlo's Bewitched By Barton in the show ring.