Pat-Ed's Star Rider To SunGlo
(Rider)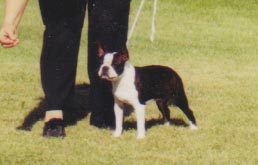 Rider at just under 6 months old, taking Best In Match at the Boston Terrier Club Of Portland's "B" Match
held at Central Point, Oregon in September of 2000.
Rider as a puppy, taking in a rest stop on his way to SW Oregon.

Rider was bred by Pat Holland and is owned by Ann & Thomas Sunday.
Pedigree for Pat-Ed's Star Rider To SunGlo



Sire
Am/Can. Ch. Bramley's I'm A Midnite Rider

Sire
Am/Can. Ch. Kennedy's
Storm Watch Bramley
Sire
Ch. Brandy's-Kennedy Rudolf
Valntno
Sire

Dam

Dam
Ch. Kennedy's C'est La Vie
Sire

Dam

Dam
Bramley's Bouncing Yo-Yo
Sire
Hornerbrook's Elf Sumac
Himself
Sire

Dam

Dam
Bramley's Elegant Emma
Sire
Dam
Dam
Stella Polaris Star Danser
Sire
Ch. Stella Polaris Space
Pilot
Sire
Ch. Top Shelf's Mr. Destiny
Sire

Dam

Dam
Ch. Amazing Gracie of Byelow
Sire

Dam

Dam
Stella Polaris Sunrise
Sire
Ch. Top Shelf's Mr. Destiny
Sire

Dam

Dam
Stella Polaris Daizy
Sire

Dam