I'm Glowing Torch-Ett C.D. C.D.X. U.D.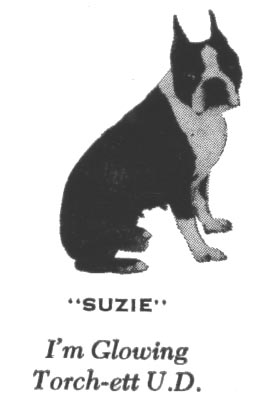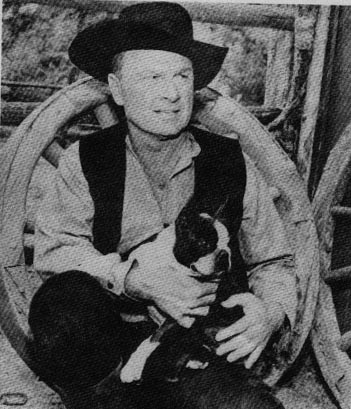 "Suzie" (I'm Glowing Torch-Ett, UD) with Eddie Albert, starring in "Wagon Train". She is sired by Am/Mex Ch. Glowing Torch Am/Can. C.D. out of Princess Little Bit Lovit. Bred and owned by Frankie Gates Bailey, Grants Pass, Oregon. Suzie started in TV commercials when a dog was needed who could eat heartily for a dog food ad. She was a great success, as Mrs. Gates said: "No dog eats as well as Suzie". Her big chance came when she got the title role in an episode of the "Dick Powell Theater". This was her first dramatic role, titled, "The Boston Terrier". This was followed by a motion picture where Suzie co-starred with Sandra Dee, Bobby Darin and John Lund in "If A Man Answers".
The Wagon Train episode was possibly the most demanding role Suzie had. The film was shot in Laramie Canyon and the real excitement came one day when she had to fight a bull. Because she was a stickler for realism, she refused a stand-in (which she really had) and insisted on doing the dangerous scene herself. She was handled that day by a Mr. Weatherwax, owner/trainer of another canine star known as "Lassie". He placed a thin, almost invisible wire on Suzie so she could be pulled to safety in case the bull wouldn't fight fair. But Suzie was so absorbed in her make-believe, she strained on the wire, broke it and chased the bull down the canyon!
See Suzie's Pedigree
See Suzie's Stand-In (Top Brass Bonanza C.D.)