Ch. Pilot's Glowing Torch on the cover of the Boston Bulletin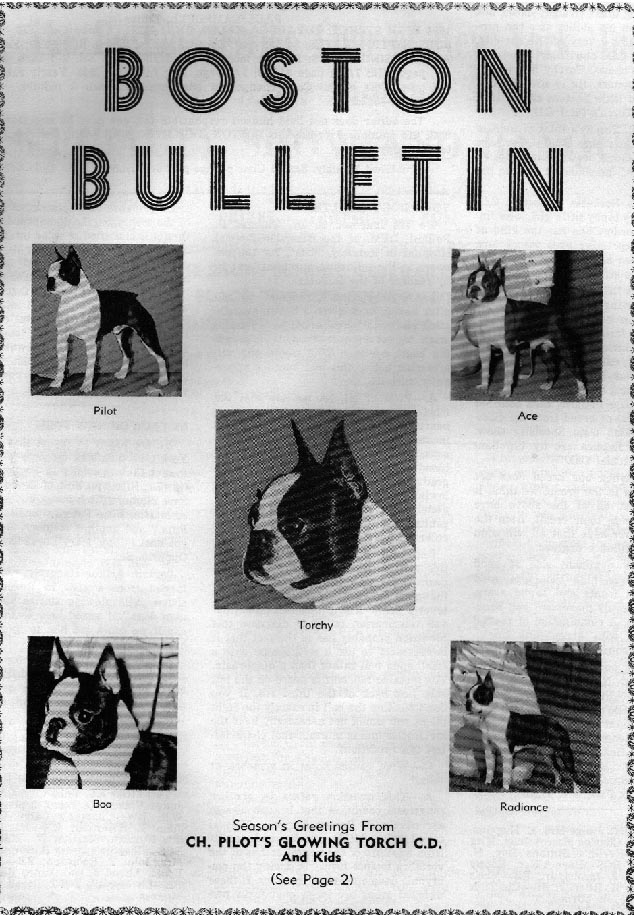 Cover Story
BOSTON BULLETIN - December, 1969
Featured on our cover this month is "Ch. Pilot's Glowing Torch C.D." and five of his outstanding sons and daughters. Torchy is not only a top specimen of the breed, finishing in six straight shows, but has also proven his ability as a top pro-ducer. He is also a very intelligent dog, capturing his C.D. obedience degree in three straight shows. Torchy has 16 Ch. brothers and sisters. He is sired by one of the greatest little Bostons of all time, the late "Ch. Torch's Pilot C.D."
His sons, Ch. Torchy's Pilot of SunGlo and Ch. SunGlo's Ace Rockefeller, are both elegant, sound, well moving dogs - probably two of the soundest dogs in the breed today.
Ch. Torchy's Rockette of SunGlo C.D. (Boo) is a very typey little girl, who finished in fast order. She has the kind of large, dark, expressive eyes we all love to see. She also achieved her obedience degree in three straight shows.
Ch. SunGlo's Bright Radiance is a very sound, well moving bitch with lovely head and beautiful arched neck. She is a litter mate to Dark Mischief's Replica, an extremely typey little bundle of energy with beautiful head, exceptional shoulder and topline. She has 13 points towards her title, with natural ears. She took time out for a litter of five puppies, then bounced back to win best of breed from the classes at the Golden Gate Specialty show. Radiance and Replica are by Ch. Sun-Glo's Dark Mischief C.D.
At a time when our breed does not place too often in the group, we think it is notable that all of the above have group placings to their credit, from the classes. It is our hope that all will soon have their obedience degrees.
Torchy is a dominant sire of good heads, dark eyes, high shoulders, good toplines, good fronts and sound rears, short bodies, lovely movement and beautiful markings. A combination of overall good Bostons with exceptional intelligence and personality.
Other good ones to watch for are:
Torchy's Good News of SunGlo, Miss Pilot's Sweet-N-Fancy, SunGlo's Bright Mischief, SunGlo's Radiant Impish Jet, SunGlo's Radiant Speed Jet, SunGlo's Pilot Light, Redwood's Fancy Torchette and Pilot's Hi-Jinx. Holiday greetings and best wishes for Better Bostons in 1970 from SunGlo Bostons.
Back To Torchy's Page
Back To Our Dogs
Back To Famous Bostons
Back To Home